The Astrology of the conjunctions by Stephan Heilen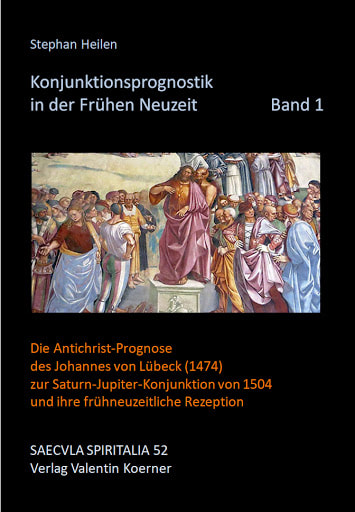 This new book in German language, by Stephan Heilen, addresses aspects of one of the core doctrines of astrological prognostication.
Of Perso-Arabic origin, conjunction astrology bypasses individual birth horoscopes in favor of those rare conjunctions of planets on which historical events-especially the fates of dynasties and religions-were thought to depend. Brought to Europe via Arabic texts, this doctrine exerted an enormous impact on late Medieval and Renaissance culture. Volume 1 offers a general introduction to the project followed by a critical edition with German translation of the earliest relevant text. Here John of Lübeck, writing from Padua in 1474, predicts in detail when and how the Antichrist's reign of terror, widely anticipated as the last world religion, will arrive.
Stephan HEILEN: Konjunktionsprognostik in der Frühen Neuzeit. 1. Band: Die Antichrist-Prognose des Johannes von Lübeck (1474) zur Saturn-Jupiter-Konjunktion von 1504 und ihre frühneuzeitliche Rezeption. 2020. XII, 710 Seiten, 10 Abb. ISBN 978-3-87320-453-9